MEI Maverick Engineering, a wholly owned subsidiary of Triple 5 Worldwide, can be of assistance with your Catalytic Reformer projects. MEI can provide the complete range of services, including front-end engineering design, detail engineering, procurement, construction management, start-up and operator training, to insure a successful brownfield or maintenance project. We also have the experience to work with various licensors and leading technologies (both semi-regenerative and continuous catalyst regeneration) to make your Greenfield project a success. Our expertise yields shorter project schedules, industry superior cost control, and minimal client risk.
Catalytic Reforming is a process in which linear paraffinic hydrocarbons contained in crude unit naphthas, which have low octane ratings, are converted in a high octane reformate containing aromatics and iso-paraffins. These reformates are a premium blending stock for producing high octane gasoline. The reformate is also the main source of bulk aromatic chemicals such as benzene, toluene, xylene, and ethylbenzene. These chemicals serve as raw material in the manufacture of plastics.
The catalytic reformer also produces high purity hydrogen as a by-product, and it can be exported for use in other refinery process, such as hydrotreating and hydrocracker units.
There are several types of catalytic reforming processes available, including Hydroforming, Powerforming, Ultraforming, and Thermofor catalytic reforming. However, the continuous catalyst regeneration (CCR) reformers are the most modern type of catalytic reformer. They utilize continuous in-situ regeneration of a portion of the catalyst in a special regenerator and the continuous addition of this regenerated catalyst to the reactors.
Today, there are two primary licensors of CCR technology:
UOP's Platformer process

Axens' Octanizing Process
The catalyst in a CCR reformer is usually an alumina base sphere or extradite which is impregnated with either platinum, rhenium, or a combination of both.
Typical semi-regenerative catalytic reforming unit: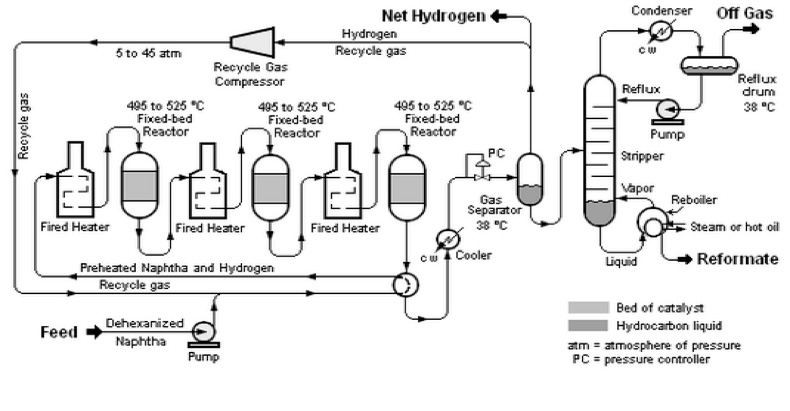 Catalytic Reforming: Projects
A partial listing of MEI Engineering experience with Catalytic Reformer Units is provided below:
Handling System for #4 CCR Catalyst.
Feasibility Study and Project Design Basis (PDB) #5 CCR Hydrogen Reduction Zone.
ISBL engineering design including interconnecting piping for #4 Platformate Splitter and #2 Reformate Splitter.
OSHA 1910 Compliance: Walk-downs and updating Piping and Instrument Diagrams.