Hydrocarbon liquids are very valuable, and it is essential that their recovery is maximized. MEI Maverick Engineering has the capabilities and experience to provide you with the safest, most cost effective, reliable, and flexible solutions for your gas/oil/water separation projects.
MEI experience and capabilities can meet your needs for gas/oil/water separation projects, including:
Front-end design packages
Detailed Engineering & Design
Procurement, including purchasing, expediting, and inspection services
Project Controls (Cost Control and Scheduling)
Total Installed Cost Estimates (per AACE guidelines)
Construction services & management
Project Management
Commissioning & Startup services
MEI provides superior designs of several types of separators.
Treaters
Hydrocarbon from the wellhead is prepared for sale and/or further processing by removing the emulsified liquids and solids from the crude, while flashing volatile vapors. This is accomplished through reliable and simple heat treaters. These units can be vertical or horizontal (for higher flow rates).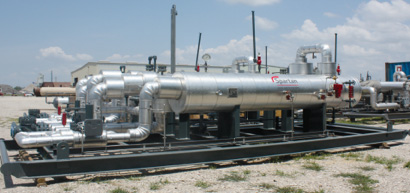 Wellhead JT Plants
Small JT plants can be installed at the wellhead to maximize the separation of liquids from the gas stream prior to pipelining to a Central Processing Facility. The JT plant relies on the Joules-Thompson effect, whereby the gas is expanded across a pressure-reducing valve, thus cooling the stream. This causes the gas liquids to condense and can be separated in a gravity separator downstream.
Condensate Stabilizers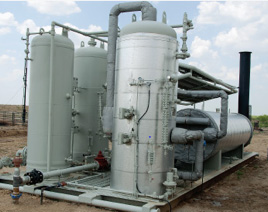 Stabilizers maximize the production of valuable gas liquids, thus minimizing their loss to the natural gas stream. These plants also insure the liquids are stabilized and safe for storage and/or transport, and also reduces the emissions of volatile hydrocarbons (VOCs) to the
atmosphere.